York Revolution Fan Club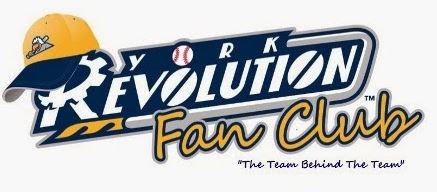 The York Revolution Fan Club provides additional support to the players, coaching staff, and management of the York Revolution and gives members an "inside look" at their team through regularly scheduled meetings (that often include special appearances by players), exclusive Fan Club events, and much more. You may also participate in one or all of our committees.
Membership meetings are held in the Homerun Patio at PeoplesBank Park during the season. In the event the game scheduled that day is canceled due to weather, the meeting is also canceled. Updates will be sent out via email and placed on the York Revolution Fan Club Facebook page. Visit it by
clicking here
!
Now accepting membership for the 2017 season!
Family Membership: $20.00 (2 Adults and your children under 24)
Individual Membership: $10.00
Fan Club Officers:
Steve Monfelt, President
Penny Dzubinski, Vice President
Susanne Wilding, Secretary
Dennis Rote, Treasurer

Fan Club Members and their invitees, licensees, guests, or visitors, and their families, shall save and hold York Revolution Fan Club harmless and indemnify the York Revolution Fan Club from any and all claims, loss, damages, liabilities, cost, accident, expense, or in connection with injury (including death) or damage to any person or property in any way resulting from or connected with any function sanctioned by the York Revolution. The York Revolution Fan Club is an independent organization that shares no legal or fiscal assets and/or liabilities with York Professional Baseball, LLC (DBA York Revolution) or High Five Baseball, LLC. All applicants, by signing this agreement, also agree to abide by the by-laws of the York Revolution Fan Club.