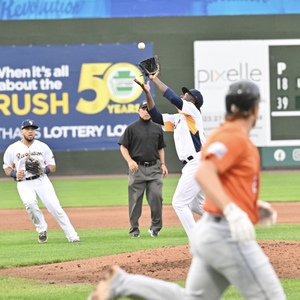 (September 6, 2022 – York, Pa.): After Monday's rainout, the York Revolution sought to break their five-game losing streak on Tuesday evening but were unable to find the win, dropping their sixth straight overall and their sixth straight to the Long Island Ducks by a 7-1 score at PeoplesBank Park.
After retiring the side in order in the first, Eduardo Rivera loaded the bases with nobody out in the second but retired the next three to end the inning without damage.
Long Island would break the scoreless tie in the top of the fourth on a two-out RBI single to center from Joe DeCarlo. That single scored Trevor Achenbach, who had reached after being hit by a pitch and advanced on a wild pitch.
Rivera walked the leadoff hitter in the fifth before surrendering a two-run homer to left center by L.J. Mazzilli. Three batters later, Jose Sermo launched a two-run shot of his own to left center, giving Long Island a 5-0 lead.
Offensively, York walked twice in both the fifth and sixth innings but all of those runners were left on as a familiar theme of missed opportunities with runners in scoring position kept York scoreless.
Alejandro De Aza, the Atlantic League's leader in batting, added insurance for the Ducks in both the sixth and seventh innings, with an RBI double and single, respectively, growing the Ducks lead to 7-0.
Entering the seventh inning with just two hits as a team, York doubled that total with two singles courtesy of JC Encarnacion and Telvin Nash, but once again stranded both.
The Revs finally cracked into the run column in the eighth on an RBI triple to right center from Yefri Perez, plating Melky Mesa who had led off the frame with a double, the 98th of his Revs career (third all-time), though York still trailed 7-1. It was the only hit with runners in scoring position (1-for-14) on the night for the Revs, who stranded 12 runners.
The Revs have now lost six straight for the second time this season and will look to avoid tying a franchise record skid in Wednesday's single admission doubleheader resulting from Monday's rainout. Ben Herrick will get the ball in game one which gets underway at 5 p.m. It is a PeoplesBank Kids Eat Free Wednesday. Tickets are on sale at YorkRevolution.com, (717) 801-HITS, and in-person at the Shipley Energy Ticket Office.
Notes: The loss snapped a three-start winning streak for Rivera (8-4) who suffered his first defeat since July 19. Ducks starter Akeel Morris (6-9) went the first five innings for his second win in three starts against York; he has allowed just two runs in 17.0 innings against the Revs this season. Nellie Rodriguez drew his 103rd walk of the season, now two shy of the Atlantic League record set by Nash in 2019.