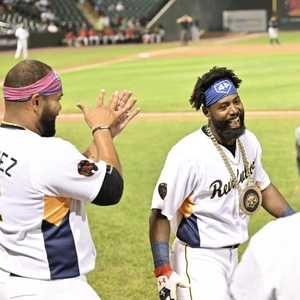 (September 9, 2022 – York, Pa.): Melky Mesa set a York Revolution franchise record for career outfield assists and tied the record for RBI as the Revs defeated the Southern Maryland Blue Crabs, 9-2 on Friday night at PeoplesBank Park.
York got a terrific debut start from Deyvis Julian (1-0), signed earlier in the day. Making his first professional appearance since 2019 and first start since 2017, Julian limited the Blue Crabs to two runs (one earned) on three hits in five innings for the win.
The Revs defeated Thompson (14-4) for the second straight meeting, denying the Atlantic League's all-time wins leader of his 90th Blue Crabs victory, scoring five runs on nine hits in six innings, including three home runs, his most allowed in a game since 2017.
Coming off back-to-back complete game shutouts, seven innings and nine innings, respectively over his previous two starts, Thompson's scoreless streak ended in the first when Jhon Nunez doubled to right center with one out and scored on a Telvin Nash single to left center for a quick 1-0 Revs lead.
Southern Maryland attempted to tie the game, sending Jared Walker around third on an error with one out in the third inning, but Mesa came up firing from left field and nailed Walker at the plate for the 33rd outfield assist of his Revs career, breaking the previous record of 32 held by Scott Grimes. Mesa's 12th this season kept the Revs in front until Jack Sundberg singled home a run on a two-out base hit to center, tying the score at 1-1.
Julian responded with his third 1-2-3 inning in the fourth, but a leadoff double to right by Zach Collier set up a sac fly by Ryan Haug in the fifth, giving the Blue Crabs a 2-1 lead.
Yefri Perez (4-for-4) drove a triple into the left field corner with one out in the bottom of the fifth, and Josue Herrera followed by parking a go-ahead two-run homer to deep right for a 3-2 lead on his ninth of the year, matching a career-high set one year ago.
Nellie Rodriguez capped a nine-pitch at-bat with his 23rd home run, a solo shot to left center with one out in the sixth. Mesa followed by obliterating a line drive homer over the Arch Nemesis as the duo went back-to-back for a 5-2 lead.
York loaded the bases with no outs against reliever Connor Law in the seventh, setting up a walk to Nash and a base hit to left center by Rodriguez as the lead grew to 7-2. Mesa followed by chopping a two-run single down the right field line, tying Andres Perez for the Revs' all-time RBI record with 312 in his York career.
The Revs bullpen received scoreless innings from Franklin Van Gurp, Roniel Raudes, Eduardo Rivera, and Jim Fuller to close out the win.
York out-hit Southern Maryland 13-4 in the victory.
Revs righty Sam Burton faces Southern Maryland's Eddie Butler in Saturday's contest at 6:30 p.m. It is High School Spirit Night presented by PA Virtual Charter School, featuring Postgame Fireworks presented by Community Services Group. Tickets are on sale at YorkRevolution.com, (717) 801-HITS, and in-person at the Shipley Energy Ticket Office.